With the proper message, your brand should continue its advertising presence in order to position itself for success following the COVID-19 crisis. Consider corporate social responsibility, tactical sales-oriented coupons and price discounts, and messaging about how your brand understands the current economic pressures of its loyal supporters.
When your business is faced with a severe level of temporary uncertainty, the first inclination by senior management might be to target ad spending for cutbacks.
However, it is important not to give in to the knee-jerk reaction to cut ad spending. First, evaluate the situation carefully and consider the long-term brand health effects as compared to short-term spending cuts. Your senior management might be surprised to learn how much it can hurt.
The below chart from Kantar shows the devastating impact on brand health measures from brands who cut their TV ad spending in the wake of a financial crisis that sparked the Great Recession: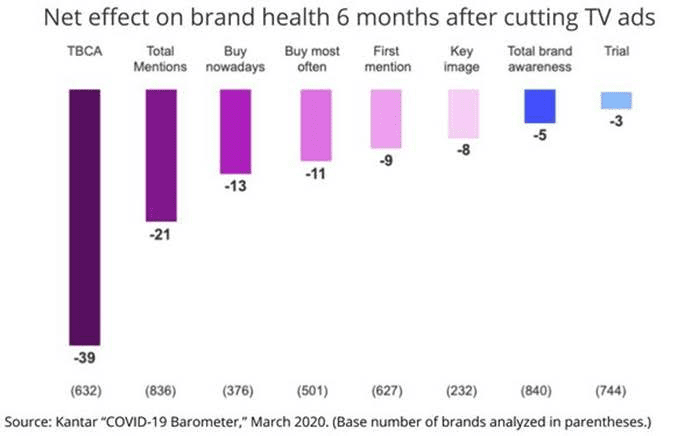 Per a study by Forbes on "The Importance of Advertising in a Recession," there have been a number of studies going back nearly a century that point out the advantages of maintaining or even increasing ad budgets during a weaker economy.
Those advertisers that maintained or grew their ad spending increased sales and market share during the recession and afterward, including Kellogg's, Toyota, Pizza Hut & Taco Bell, and Amazon.
4 reasons to KEEP advertising in a recession
There are several reasons to advertise during a slowdown:
The "noise level" in a brand's product category can drop when competitors cut back on their ad spend. It also allows advertisers to re-position a brand or introduce a new product.
Brands can project to consumers the image of corporate stability during challenging times.
The cost of advertising drops during recessions. The lower rates create a "buyer's market" for brands.
When marketers cut back on their ad spending, the brand loses its "share of mind" with consumers, with the potential of losing current – and possibly future – sales. An increase in "share of voice" typically leads to an increase in "share of the market." An increase in market share results, with an increase in profits.
Another strategy used by marketers is changing the ad message and using short-term price incentives to match the economic climate with consumers who are seeking a good deal. Some advertisers will offer interest-free loans, coupons or special promotions to boost sales and market share.
When the economy bounces back, regular pricing can return. For some advertisers that don't give cost incentives, they can change the ad message to being expensive but worth it. Another creative strategy is pointing out the value the brand provides.
Although the natural inclination for advertisers is to cut back on advertising during a recession, those brands that maintain their ad budget and/or change their messaging can get a long-lasting boost in sales and market share.