Some of you may have recently received a rather annoying email from LinkedIn about it's automated Twitter support feature:
Recently, it was decided that the Tweets application, a LinkedIn feature that you've used at some point, will no longer be supported as of January 31, 2012. Starting on that date, you will no longer be able to post recent tweets in a module on your profile or view recent tweets in a separate module on the home page. However, you can still display tweets on your profile by binding your Twitter and LinkedIn accounts and then tweeting with an #in hashtag.
Now, if you're like me, you have zero interest in adding a #in hashtag to your tweets. Tweets are starved enough for space and the last thing I need to add is another 3 characters just so it shows up on LinkedIn.
However, there is a work around in the form of the darling of the automation geek set, IFTTT, which stands for "If This Then That." If you haven't heard of IFTTT, it's this miracle of a site that lets you connect up over 20 different online applications, like Twitter, LinkedIn, Evernote, Buffer, Tumblr, Facebook, and so on, to one another to automate a lot of tasks that can get really repetitive if you're a couple of social media platforms.
For example, you could set it up so that every time you post a new blog post on your site, it will read it via your site's , then post it to Twitter, Facebook, and on on. The possibilities just go on and on and I guarantee you now that I've introduced you to it, you will curse my name for blowing most of your day as you discover new ways to use this tool, which, as of this writing, it totally free.
Now, let's talk about how you can use IFTTT to automate the posting of your tweets to LinkedIn. First, I'm assuming that you already have Twitter, LinkedIn, and IFTTT accounts setup. If not, go do that right now and while you're in there, make sure to connect IFTTT to Twitter and LinkedIn by clicking on their icons within the "Channels" section.
Are we back? Good.
First, click on any of the many "Create a task" buttons around the site. There is one on the dashboard page, one on the "Tasks" page, and so forth. After you click, you'll see the first step of the "If This Then That" process:
Click on the big "this" link to select what application is going to trigger this if then statement.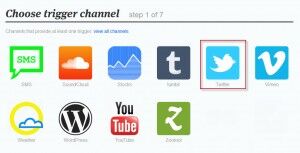 Once you see the "Choose trigger" channel" screen, select Twitter. As you can see, there are a lot of trigger options to play with. Focus, you're busy.
If you haven't linked Twitter to your account yet, it will ask you to do so here, and it's easy, so don't sweat the lack of the screen shot.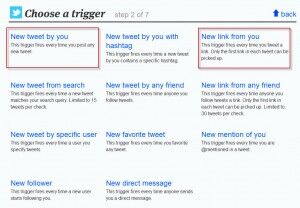 From here, you have many options for different Twitter functions, but we're going to focus on "New tweet by you" or "New link from you." The first is obvious, but the second is still a tweet, but one that has a link included as part of the text.
I usually pick the latter of the two because IFTTT can handle links differently and provide a nicer post than the built in Twitter applications for Facebook, LinkedIn, (the kind with the built in screen shot).

This screen looks silly, but sometimes some triggers have options at this point. For instance, if you select "New tweet from you" it will ask if you want to include retweets and "@" posts, which is nice.

Just like the first step, click on the big "that" link to select the other application you want your tweets to go to next.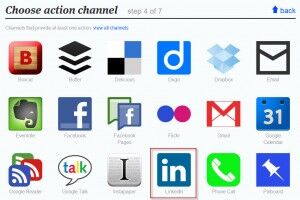 Next, go ahead and click on the big "IN" button for LinkedIn. Again note all the crazy fun possibilities here (the phone one is fun, you can actually set it up so that you get a call that reads your tweet to you).
Again, if you don't have LinkedIn, um, linked to IFTTT yet, it will do it as the next step, but otherwise, let's wrap this up.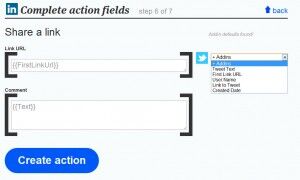 OK, so here's where you get to customize things a little bit, if you want. Then again, you may just want to leave it as is, which is that the first link in the tweet is used for the link in the LinkedIn post and the text from the tweet is what is posted as the post. There are other options, like the time or your name or whatever, but those aren't too useful when you're doing your own stuff.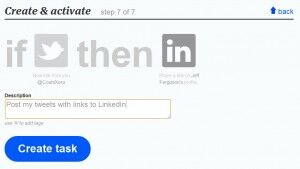 Finally, name your task. Be descriptive as you want so you remember what the task does for you.

And that's it! You're done! The automation kicks in immediately, so if you have any posts in the hopper, it will send them out almost right away. From this screen you can delete the task, pause it, publish it as a "recipe", or edit the task.
As you can see, IFTTT can get really addicting… I'm still playing with it and I've been using it for awhile. I'm testing out a lot of automation for my social media channels now; some of them work great, others got a little annoying to my followers, so I killed them off almost immediately.
By the way, one of the channels you can use with IFTTT is Buffer, this great app that lets you post your tweets to a queue that doles them out throughout the day rather than flooding your followers. Right now, I've got it set up to automatically thank new followers, people who RT my posts, and a bunch of other tasks that you need to do, but take away from me working on client work (which is really what I do for a living, not blog, tweet, etc.)
Anyway, if you would like me to post more "How To" posts on IFTTT, please let me know! And if you are looking for PPC ads management or SEO services, then contact us to discuss how we can grow your traffic and revenue.
Jeff
Related articles