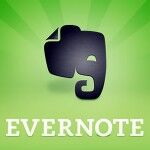 My friends already know that I often find ways to sneak Evernote into nearly any conversation, so it should come as no surprise to find out how much I rely on it for assisting my clients. In fact, I would argue that Evernote for digital marketing is probably my most important tool in my marketing toolbox.
Article Library
Digital marketing blogs like Moz, SearchEngineLand, SearchEngineWatch among others are daily stops for me. But rather than bookmarking pages or (gasp) printing them out, I save them in notebooks in Evernote. With the Web Clipper function, I can tag, label, add comments and file the article. In fact, you can save the article without all the clutter.
I can't tell you how many times I've exchanged emails with a client who was debating about investing time in making their website mobile friendly. I think to myself, "It would be great to have those stats from Mary Meeker's recent report."
Now pulling up that article is as easy as typing in a few keywords into my smart phone, tablet or computer. A simple copy and paste and – presto! – I look like an expert, "Mobile traffic has grown to 13 percent of web traffic". Thank you Mary Meeker!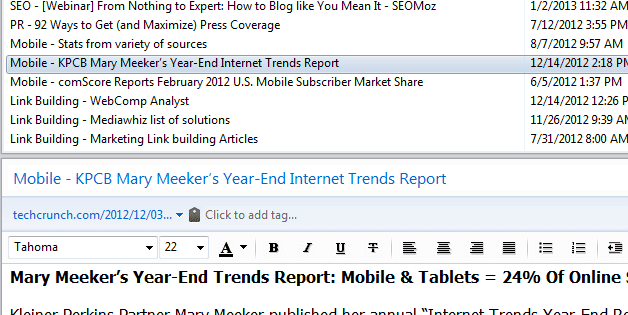 Even though one of Evernote's best features is its powerful search function, I like to add keyword labels to my notes and tags. Some of the common tags I use include:
Analytics
Conversion Optimization
Display
Email
Link Building
Mobile
PPC
PR
SEO
Social
Client Notebooks
I create notebooks for each client where I save all information relating to the account and the campaign such as individual projects, goals, contact details, contracts, screenshots, reports etc. Historically, I've used Dropbox but have found these client notes to be more effective.
Another great feature of Evernote – ability to create notes from email. You can copy (I often BCC) or forward an email to Evernote, or even better, Outlook has a plugin that converts your email into a note directly. Both methods allow you to tag and assign notebooks.

Template Notebooks
Why reinvent the wheel? I save templates of proposals, reports and presentations I've previously used for future use.

Timeline and Journal
Keeping a log of my hours worked and what I worked on has never been easier. Even if I'm meeting with a client at a coffee shop, I'll take out my phone afterward and record the time, who I met with and what was discussed.

Prioritization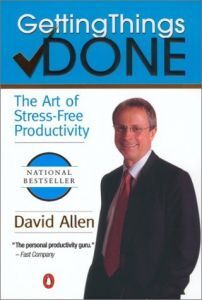 I love David Allen's methodology Getting Things Done and will likely do a blog post about it sometime. Lifehacker wrote a great article titled Evernote Using GTD Templates.
I recommend you check it out. But for Evernote, I keep it simple. I label everything a 0, 1, or 2. A zero for urgent, must be done today items. One for items due soon, and two for lower priority items. Things that I will eventually get to or will at some point move up in priority.