By Guest Blogger Tim Ash, CEO @ SiteTuners
2013 presents another chance for digital marketers to get better at optimizing their campaigns for improved visitor experience and conversions. As part of ensuring the new year brings in new results, you'll want to do some "house cleaning" on your paid campaigns. Here are some tips that should easily improve your PPC conversions:
Use Targeted Landing Pages: If you're still not using targeted landing pages for your campaigns, it's about time you start doing so. It is often frustrating for visitors when they click on a really enticing ad…only to be taken to a company's ghastly homepage. While there is nothing wrong with using your website's homepage as a landing page, in most cases homepages are a mess, what with every department in an organization wanting their own piece of available homepage real estate.However, the use of dedicated landing pages alone does not guarantee success. You should also ensure that these landing pages have been fully customized to reflect target visitors' intent. Of course, creating targeted landing pages has associated costs. But your investment will also be worth it as effective ad click-through rates reduce cost-per-click.
Follow The Scent Trail: Make sure that your landing pages mirror your ads in terms of messaging and overall design. This means that your landing pages should be ready to fulfill the promises you made on your ad. If you told your prospects that you're giving out something for free or having a "sale up to 80 percent on everything," then that should be the first thing your visitors read when they arrive on your page. Otherwise, your visitors could feel they've been baited and switched. And I don't have to tell you that is the fastest way to lose anyone's trust.Be mindful of the fact that building trust and credibility in the eyes of your visitors begins the moment you put out your ad. Establish yourself as trustworthy by taking them to a landing page that's consistent with the triggers (or promises) on your ad.
Simplify and De-clutter: Great design is unobtrusive: it never calls attention to itself. Remember that your visitors' reptilian brain is in-charge: You do not want design elements jumping out of your page and taking attention away from your main call-to-action. For this reason, you should think twice when adding design elements. A good rule of thumb is to utilize only things that are necessary to point and guide visitors towards their end goal (and your conversion objectives).
Never-Ending Story: As a final note, remember that optimizing your landing pages, whether for PPC or on your website, is a never-ending process. You do not stop optimizing simply because you think you've found the "perfect" highly converting version for your paid campaign. Instead, consider landing page optimization as a critical component of your long-term goals to deliver relevant and positive experiences among your prospects, which in turn will bring you the maximum ROI from your campaigns.
About the Author: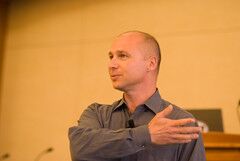 Tim Ash is the CEO of SiteTuners, a leading conversion rate optimization agency that has helped over 850 clients worldwide. He is chairperson of Conversion Conference, the first conference focused on improving online conversions, and is a highly-regarded presenter at SES, eMetrics, PPC Summit, Affiliate Summit, PubCon, Affiliate Conference, and LeadsCon. Tim is author of the bestselling book Landing Page Optimization and is a contributing columnist to many publications. You can connect with him on Twitter and LinkedIn.